Thank you for your interest in Progressive Turf Equipment and our offering of pull-behind, rotary finishing mowers.
For over 30 years, Progressive has been designing and manufacturing innovative, rotary finishing mowers for natural grass producers, golf courses and municipal / general use around the globe. Our investment in the latest 3D CAD software, integrated ERP system and CNC manufacturing work-cells, drives our customer commitment to provide high quality products that deliver unmatched Productivity, Reliability, Durability and Quality of Cut. We enjoy strong brand recognition and a solid reputation within the industry for well designed, durable products that provide lasting value to the user. Our longevity is a testament of our commitment our products and our customer's needs.
Progressive Turf Equipment Inc., is a privately held Canadian corporation based in Seaforth, Ontario, Canada. We are located approximately half-way between Detroit and Toronto.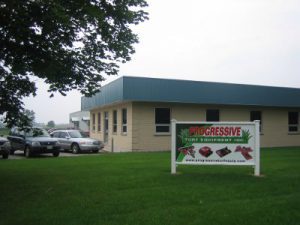 Our Products and Market Segments
TD: several tri-deck wide area pull behind finish mowers ranging from 12′ to 36′ for natural grass production, park and recreational areas
TDR: several widths of tri-deck, wide area roller mowers ranging from 10.5′ to 29.5′, for sports turf venues and natural grass production applications of all sizes
Contour: two versions of pull behind contour finish mowers for golf courses and rolling terrain
SDR: two – 3 pt hitch single deck finish mowers for smaller sports and turf fields
Steep Slope Mowers: The Slope-Pro® product line of remote controlled, rubber track mowers
Contour Rollers: wide area contour-following turf rollers, available in 10′ and 15′ sizes
FM: Front mount mowers developed specifically for the Municipal Tractor market, up to 14′ cutting width
Our sole focus is the design and manufacture of specialty mower products, for niche applications and this philosophy has guided us well through the past three decades.
Progressive's product offering is categorized into five specific product series, based upon the target market segments as below:
We thank you for your interest in Progressive Turf Equipment and we look forward to answering any questions you may have.