Pro-EZ Change Blade System
Pro-Ez Change Blade System™ incorporates a replaceable cutting tip. The system installs on the same spindle blade support bar as a standard fixed blade. This allows users to easily swap blade types as growing conditions or mowing requirements change. When the cutting edge is no longer serviceable, only the tips need to be replaced – not the complete blade. This makes the Pro-Ez Change Blade System™ a cost effective solution.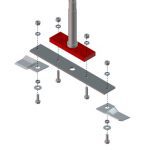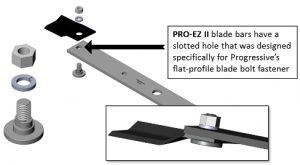 * At this time, Pro-EZ blades are only available for our Producer Series mowers measuring 22′ wide or greater.
Just the tips and retaining hardware need to be replaced when required, reducing ongoing costs
Standard hand-tools are used for reduced cost and making change out easy
Standard hardware eliminates the expense of replacing unique fasteners
Lower start-up horsepower requirement reduces stress on the complete drive train
Thinner profile than a standard blade means the tips hold a more effective edge after equivalent mowing hours
The confidence of genuine OEM parts; proven and tested by Progressive
Available in both high and low lift configurations
Hardened steel alloy tips for long edge life
Comparable initial installed cost as a fixed blade
Economical pack of 50 replacement tips lowers operating costs
Backwards compatible with all 24″ and 32″Progressive fixed blades
When installing Pro-EZ tips, impact guns are NOT recommended. Please use hand wrenches and torque bolts to 75lbs/in for optimal performance