The Pro-Teck Edge
Designed to keep a sharp edge longer. Pro-Teck is a hard surfacing embedded onto the underside of the blade. Pro-Teck can lower ongoing maintenance costs as the frequency of blade removal and re-sharpening is greatly reduced.
As the blade is used, more Pro-Teck edge is revealed
This "self-sharpening" provides extended life and lower cost
Available on both High and Low lift fixed blades
The Pro-Teck edge is standard equipment on all Producer Series fixed High-Lift and Low-Lift blades.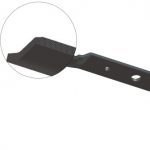 High Lift Blades
Combined with Progressive's high tip speed and deep decks, the fixed High Lift blade stands grass blades up for a clean cut, even in damp conditions or at high mowing speeds
Superior finish cut
Long life hard surfaced edge
Ideal for long or wet grass
Pro-Teck edge
Low Lift Blades
Developing less up-lift than the High Lift blade, Progressive's Low Lift fixed blade is ideal for both new growth or sandy soils where abrasion is a concern but a superior cut quality is demanded.
Less aggressive lift
Enhanced fuel economy due to lower windage
Long life hard surfaced edge, ideal for maintenance mowing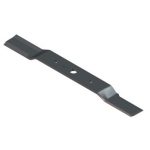 Pro-Recut Mulching Blades
The superior Pro-Recut mulching blade minimizes discharge clumping and helps to return valuable nutrients to the soil. The design of the mulching blade is matched to the design of each model's deck for optimum performance. It is also ideal for fall leaf clean up operations.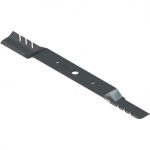 When used in conjunction with discharge baffles (also available), Pro-Recut blades produce a fine re-cut so clippings disperse evenly without clumping
Available for TD65, TD65-2, and Pro-Flex 120 models
Pro-Teck long life edge is not available for Pro-Recut blades for the TD65 and TD65-2
Pro-Flex blade shown. Picture does not represent Pro-Recut Mulching blades for other models.